Recommended for students in grades 5 through 12.
About the Exhibition
Facing Freedom in America spotlights eight moments in our nation's past when Americans struggled over the meaning of freedom. The exhibition uses images, artifacts, media, and interactivity to explore familiar and not-so-familiar stories from United States history. From the Civil War to women's suffrage, from Japanese Internment to the founding of the United Farm Workers union, the exhibition examines some of the ways Americans have struggled to define the meaning of freedom.
Themes and Stories
Conflicts over freedom are explored through four main thematic categories, and each theme is supported by two stories from United States history that are told from the perspective of the participants.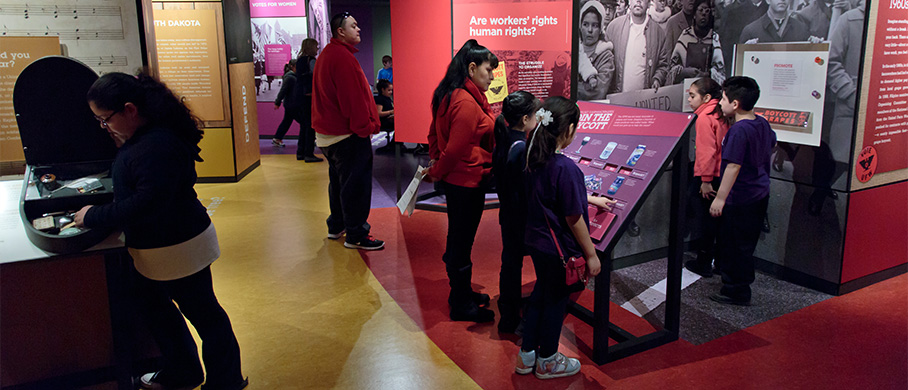 Workers' Rights
Pullman Porters, Chicago, 1920s
United Farm Workers, California, 1960s
Armed Conflict
Civil War, Mississippi, 1863
American Indian Rights, South Dakota, 1973
Race and Citizenship
Japanese Internment, West Coast, 1940s
Slavery, South Carolina, 1850s
Public Protest
School Boycott, Chicago, 1963
Votes for Women, Illinois, 1910s
Collectively, the themes and stories cover a wide range of time periods and geography to illustrate how everyone has a role in history, not just by voting or protesting but through everyday acts like working and living.
Your Visit
Throughout the gallery, which was designed especially for middle and high school students, young people have the chance to connect more with the issues through activities. During their visit, students will be able to: choose a freedom action word and take their own picture to add to the landscape of freedom faces, don suffragist props and join a march, sit in a vintage school desk and write their own picket signs about a contemporary educational issue, and use a touch screen to take the same loyalty questionnaire that Japanese Americans took during World War II. These opportunities and others allow students to consider their own view on freedom in America.
The Naphtali ben Yakov Pritzker American History Wing is made possible through a generous grant from Tawani Foundation, through the support of Colonel (IL) J.N. Pritzker, IL ARNG (retired), President and Founder, Pritzker Military Library and Tawani Foudation.